Master Distributor of Rapid RMS – POS provider for international markets. Integration with Wayne Fusion and EZTech EZForecourt Plus.

Partnership with Wiixt – Digital Transformation Company that provides a cloud-based on-line solution for EHS, called Wiiprot.

Rapid RMS is an iPad- and cloud-based suite of applications for convenience stores and gas stations. It allows for quick and efficient business transactions as well as robust inventory management.
Cloud-based software essentially means that data is securely-stored on internet servers in robust data centers. Having cloud-based functionality allows users to access information anytime and anywhere with a web browser.  There's no need to purchase a PC server, and no need to worry about all the hassle that comes with it.  Routine backups, software updates, and virus protection are all taken care of for you.
Everything stored in the cloud.
Application reinstallation can be done within minutes, automatically downloading configuration.
Extremely Stable Application.
POS running on IPAD provides a very stable operating platform.
IPAD IOS can be locked down through Apple or third-party application.
Uploads transactions as soon as connectivity is recovered.
Amazingly Fast.
Working in either Online or Offline modes.
Full forecourt support through Fusion FDC.
Extensive support documentation available online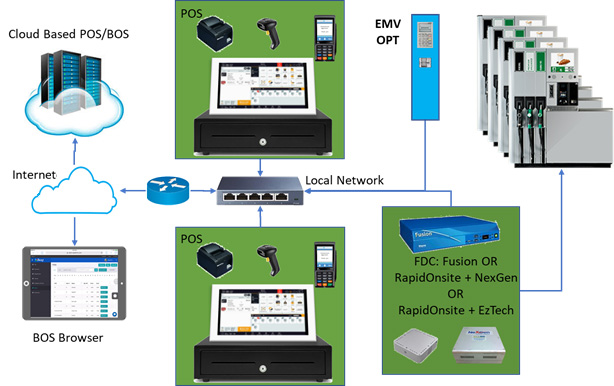 Wiiprot EHS solutions for enterprises & health care.
Cloud-based SaaS platform, accessible from any device, that offers 3 main components:
HSE Modules
We know how demanding HSE day-to-day is, in order to keep high HSE standards. We offer a wide variety of modules that can be customized to your needs, in order to drastically reduce your workload and help you focus on your key areas.
Adaptive Learning (AL)
Training is a key element to keep your teams aware of potential risks, and also  to provide the knowledge and practice of processes specific to their roles that can have an impact either on their safety/health or on other people. We offer a complete solution that adapts to your needs in content, distribution across your teams and administration, supported by years of experience in HSE.
Analytics
All HSE Modules as well as the Adaptive Learning Solution are supported by a set of Analytics, that gives you an on-line control of your operation, and helps you to identify improvement areas, dramatically reduce your workload in reports generation, and keep informed the people you may need.
All this components can be adapted to Client´s needs, and to any Company size (either local or regional).