Sites Support & Maintenance
JUST IN TIME
With OTHOS SSM your maintenance and support call center will always be ahead.

Provide the best support service to your Service Stations from a regional center monitoring quality along the process.
BENEFITS
OTHOS SSM significantly improves operative efficiency and productivity, monitoring the whole maintenance process.
Get deviation alerts with reports and tracking of results.
On line access to a great amount of data about maintenance and support processes performance, providing analysts with complete information to speed up their daily tasks.
Audit critical processes, in an easy and simple way, and go along with their growth with solution scalability.
Efficiency and control:
The process starts when a Service Station detects a problem preventing normal work and reports the situation to the Contact Center.
The operator records, on line, on SSM the service request which, automatically, moves inside the system to the next step of the approval process.
Once approved, the contractor or internal department is automatically informed by mail.
The internal or external supplier, within the agreed SLA, plans and informs his visit to the Service Station and, once the task is completed, informs completion through an electronic service report, which includes task details, spare parts used, costs and any other variable involved in the service.
Automation of the process facilitates the Contact Center answer and resolution time measurement, through the use of OTHOS Business Intelligence module.
Every day the System selects samples from the provided services, allowing the Contact Center to check service quality by sending a visit request to the field engineer who then analyzes provided service versus defined SLA.
FEATURES
OTHOS SSM includes the following modules: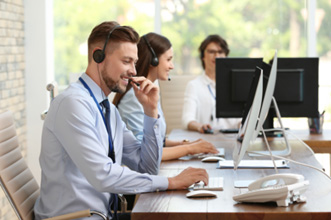 Client Service Requests (CSR).
Dispatch Service Orders (DSO).
Automatic Service Orders for preventive maintenance (ASO).
Pre and Post budget assignment.
Users Administration –Security.
Reports and indicators – KPI.
Integration with Business Intelligence modules.
Audit logs.
Last Generation Technology
The application was developed on technology Microsoft Visual Studio 2019 (.NET Framework version 4.7), using as database engine, Microsoft SQL Server 2019 Web Edition and Microsoft Report Viewer Redistributable for report generation.
Intuitive User Interface
Timely answer to Service Station events.
Minimum training.
Quick access to the functionality.
Easy Configuration
Implementation with minimum configuration.
Business rules by commands sequence.
Application running quickly.
Integrated Security Module
User profiles.
Restricted access.
Data visibility.
More information download the brochure.